Frankfinn Inaugurates Hi-Tech Air Hostess Training Centre in Agra with State-of-the-Art Infrastructure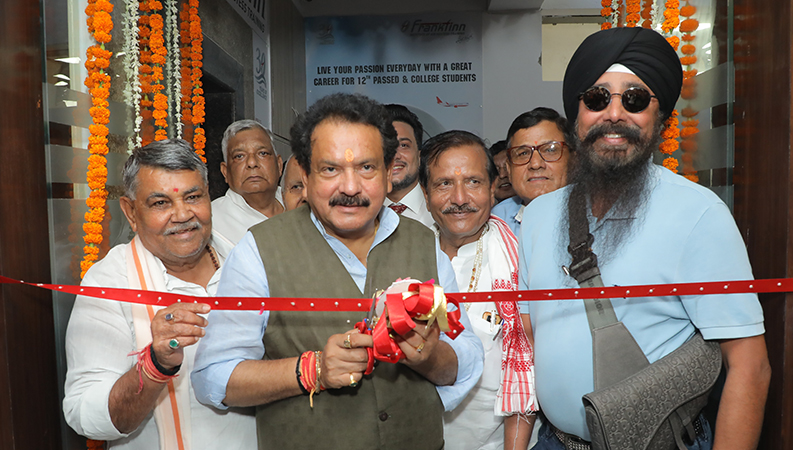 AGRA, INDIA - Frankfinn Institute of Air Hostess Training, World's No.1 Institute for Air Hostess and Aviation training, is proud to announce the grand opening of its airhostess training Centre in Agra on July 16, 2023. Frankfinn, a multinational company incorporated in 1993 is celebrating completion of 30 years of operations in 2023 and has announced massive expansion plans for the current and coming years.

Prof. S P Singh Baghel, Union Minister of State for Health & Family Welfare and Member of Parliament, Agra graced the occasion as the Chief Guest along with Special Guests Mr Chaudhary Babulal, MLA Fathepur Sikri and Dr. Beena Lawania, Social worker. Shri K.S. Kohli, Founder & Non-Executive Chairman of Frankfinn Group and Shri R.S. Kohli, Non-Executive Director of Frankfinn Group graced the occasion as the Guests of Honour. Also present at the occasion were Mr. William Daniel, Managing Director- Frankfinn Group, Mr. Anshul Gauba, Director - Sales & Operations, Mr. Sudhir Malhotra Vice President - Finance & Accounts, Capt. Deepesh Khirwar , Mrs Anjali Khirwar & other senior officials of Frankfinn and Industry.

During his keynote address, Shri K.S. Kohli shared that the Indian Aviation Industry is poised to grow at a very fast pace. Frankfinn is a pioneer in Cabin crew & Hospitality training. He shared that UP, which earlier had only two airports, has nine airports that are functional today while 10 new airports are being built. Apart from this, land survey work has started at 2 airports. Uttar Pradesh is going to become a state with 21 airports in the coming times out of which 16 will be domestic and 5 will be international. A new Airport is soon coming at Agra which will be built 10km away from the Taj Mahal. The increased number of flights will make it easier for travellers from around the world to visit Agra and experience its many attractions. In addition, the increase in flights will create more jobs in the hospitality sector and could lead to an economic boost for the city. Further, international charters will now be able to land directly at the new terminal which will soon be constructed.

The dream of crores of people to fly in the sky has come true. Uttar Pradesh has seen 145 per cent growth in terms of airplane arrivals. In 2013-14, UP recorded 652 airplane arrivals in a week. This has gone up to 1,595 at present. So far, the government has already announced 59 air routes. There is a vision for 122 more routes that will increase connectivity across the state. In the near future, Kanpur will have smooth air connectivity with cities such as Aligarh, Moradabad, Pantnagar and Shravasti. In the next phase of development, Saharanpur, Chitrakoot, Jhansi, Ghazipur, Moradabad, Aligarh, and Shravasti will get airport facilities. Jewar airport at Noida will be on par with Delhi and Mumbai airports apart from the new airport coming up at Ayodhya.

The latest mega deal between Tata-owned Air India and aircraft makers Boeing and Airbus will create over 2,00,000 jobs in India, directly and indirectly, according to top aviation sector experts. Under the deal, Air India, which currently has a fleet of 140 planes, will buy 470 aircraft from Boeing and Airbus. IndiGo has around 300 aircraft and has ordered 500 more aircraft from Airbus for its expansion plan. Akasa Air has placed an order for $9 billion worth of Boeing planes. This year is going to be the best year for Aviation growth. This will be the best year for the job aspirants / candidates who aspire to make a career in the Aviation, Hospitality & Travel Industry. In view of such high demand, Frankfinn is going to invest around Rs 200 crores and is planning to open 4 new centres in UP in the next one year besides 100 more centres all over India and 30 International centres in the next 3 years. The new Frankfinn Centre in Agra is a hi-tech centre with state-of-the art infrastructure & well-equipped computer labs with projectors and audiovisual aids for excellent training delivery. The classrooms have been designed to ensure an extremely professional & good learning environment for the students. Frankfinn Agra centre also has a mock aircraft. This will help the students get acquainted with the inside of an aircraft from day one of their training. Frankfinn has partnered with Air India to provide its students with detailed cabin service familiarisation. At the end of their training, Frankfinn students receive a co-branded certificate from Air India, adding to their credentials. The centre is fully air-conditioned and has high standards of hygiene. Highly experienced trainers will provide top-notch training to aspiring students. The institute is going to offer 11-month and 6-month Certificate courses that will cover all the aspects of Cabin Crew & Hospitality training, including grooming, communication skills, personality development, swimming, aviation safety, and customer service to the students. Frankfinn trains its students on world's leading computerized reservation systems, which are widely used in Airlines, Hotel and Travel Industries.

All Frankfinn courses are affiliated with NSDC (National Skill Development Corporation) & THSC (Tourism & Hospitality Skill Council). Last financial year (2022-23) alone, 11000 Frankfinn students got placements in the Aviation, Hospitality, Travel, and Customer service industries. This is proof of the Frankfinn's highest quality training delivery to its students. Frankfinn repeatedly featured in the Limca Book of records for the highest cabin crew placements year after year. The highest salary package offered to Frankfinn students is Rs 1 lac 75 thousand per month. Frankfinn is the recruitment partner for the Emirates Group, including Emirates Airline for the last 13 years.

Frankfinn has been awarded the 'Best Air Hostess Training Institute' for eleven years in a row (2011-2022). This indicates the excellent quality of training Frankfinn imparts.

Frankfinn Institute has been awarded the Gold Award for "Best higher vocational institute for skill development" continuously for 4 years in a row (2016-2019) from Assocham. Frankfinn has received the award for "Best Training Partner" (2017-18), (2018-19) & (2021-22) from THSC (Tourism & Hospitality Skill Council). Frankfinn Institute has also received the award for "Best Aviation Training Institute-2021" at the Assocham Knowledge Management Virtual meet and awards on Leadership Excellence. Frankfinn Institute has been felicitated for " Outstanding contribution in cabin crew training" by the PHD Chamber of Commerce and Industry in 2019. In January 2022, Frankfinn was awarded as "Best Institute in Placement" at the Assocham Education Excellence Summit cum awards ceremony. Frankfinn has got an outstanding Rating -A from NSDC for the Financial year 2022-23. Recently on July 14, 2023, Frankfinn has received 3 Awards from the Tourism and Hospitality Skill Council :

1. Training Partner Award for Highest Enrolment Student Paid Program
2. Training Partner Award for Highest Training Centre Affiliation
3. Special Recognition Award for Support and Commitment towards Skilling of Youth in Tourism & Hospitality Sector.